Through the efforts of the New Jersey's Mission of Honor over 330 veteran's cremains have been reunited with their families giving them closure and a proper resting place. Another 288 Forgotten veterans have been honored and interred in William C. Doyle Veterans Memorial Cemetery for a total of 618 veterans removed from funeral homes thru out the state of New Jersey.
Due to the awareness of the NJMOH throughout the state relatives of many, many civilian cremains have also come forward to claim their loved ones and give them a final resting place.
Click here to view the 2018 Cremains Laid to Rest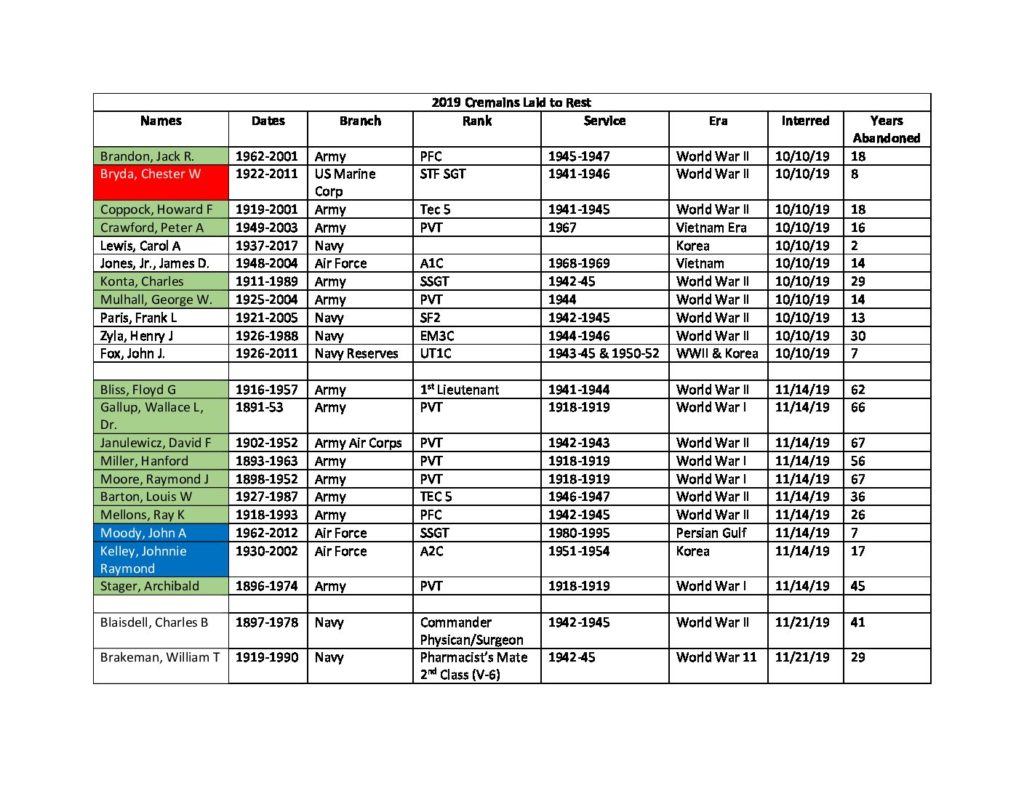 To view Cremains Laid to Rest from 2009 - 2017, click here.
---
Cremains Laid to Rest
Brig. Gen. Wm. C. Doyle Veterans Memorial Cemetery
---
Cremains Laid to Rest June 2016
Brig. Gen. Wm. C. Doyle Veterans Memorial Cemetery
---
Cremains Laid to Rest April 2016
Brig. Gen. Wm. C. Doyle Veterans Memorial Cemetery
Brig. Gen. Wm. C. Doyle Veterans Memorial Cemetery
350 Province Line Road, Wrightstown, New Jersey 08562
Phone: 609-758-7250 - http://www.state.nj.us/military/cemetery/
Harleigh Cemetery - Camden County Veterans Cemetery
1640 Haddon Ave., Camden, New Jersey 08103
Phone: 856-963-3500 - http://www.harleighcemetery.org/