N.J. MISSION OF HONOR WREATH LAYING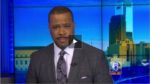 Thursday, December 08, 2016 - Channel 6
WRIGHTSTOWN, N.J. (WPVI) -- Dozens of people turned out Thursday to lay holiday wreaths on the graves of veterans.
The New Jersey Mission of Honor led the ceremony at the B.G. William C. Doyle Veteran's Memorial Cemetery in Wrightstown.
They were joined by the JROTC from Pemberton High School and New Jersey Lieutenant Governor Kim Guadagno.
This is the 6th year for the event.